Successful month for the Redwoods Dowling Kerr Healthcare team.
Anthony Rae Head of Healthcare at Redwoods Downing Kerr is pleased to report record-breaking sales in the month of September, completing on eight sales worth £7.8 million on a diverse range of healthcare businesses ranging for Residential Care, Nursing, Autism spectrum, Assisted Living and Acquired Brain Injury.
Our clients have all posted on varies media networks their delight at the marketing and sales process utilised by Redwoods Dowling Kerr highlighting that the Healthcare team met or exceeded their expectations, in terms of sales prices achieved and the time period for completion managed by the healthcare team.
Statement from Anthony Rae Head of Healthcare
With ongoing advances in medical treatment, people are living longer and with increasingly complex health conditions. Given the pressure on the NHS, the private sector (including not for profit organisations) is now responsible for the delivery of a significant proportion of the care needed to look after the elderly population as well as people of all ages with long-term health conditions.
The spectrum of care provided by the private sector is therefore vast ranging from childcare to care for younger adults, people with disabilities or complex health conditions and the elderly.
Over many years private sector providers have developed a wide range of services to provide a complete care pathway, with investors being attracted to back these organisations by the needs-driven nature of the industry.
The care sector is therefore very dynamic and ever-evolving as operators seek to provide products and services to meet commissioner requirements. It is also relatively unique in terms of the number of third-party stakeholders who are also involved with these including registration authorities, health commissioners, local government, central government, professional bodies and other similar organisations.
Our client base in the care sector is very diverse ranging from the largest institutional investors, national operators, private equity investors, hedge funds and other financial institutions to regional and local providers. We work with providers or investment companies with very large estates to operators who provide 'asset light' services such as domiciliary care and supported living. The range of organisations we act for is very representative of the market itself, with many of the largest operators being formed through an amalgamation of much smaller businesses which have steadily grown over the years.
Market activity over the past two years has been very strong and fueled by the arrival of new and very well-funded sources of capital in the form of US REITS, hedge funds, special opportunity funds and other international investors. We have also seen the return of UK Institutional investors and significant activity from the private equity community. This positive wave of new liquidity has filtered down to the regional market with the main UK banks also actively lending again and supporting operators with proven track records to develop and expand their businesses.
The care sector remains a challenging but attractive marketplace for investors, particularly those with experience and capital. Our broker team at Redwoods Dowling Kerr continues to transact Healthcare businesses for corporate operators looking to dispose of non-core or poorly performing stock. We have undertaken major disposal programmes for most of the larger corporate operators – these opportunities have been positively received by local operators who have the capital and capacity to remodel and reposition these services.
---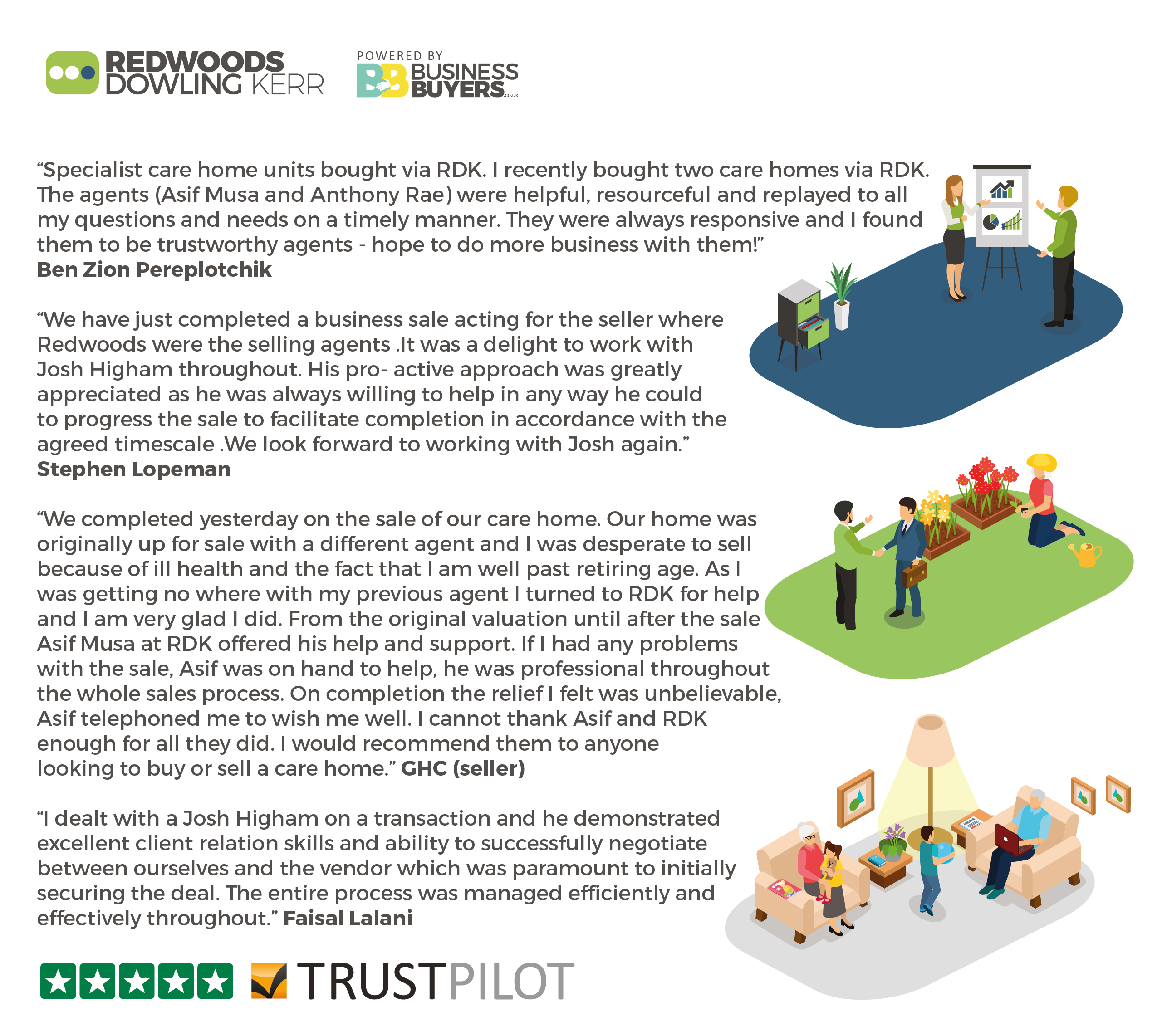 ---


---
Business Buyers
BusinessBuyers.co.uk is your one-stop shop for buying and selling SME businesses in the UK. BusinessBuyers.co.uk is a collaboration of the UK's leading Business Brokers who are renowned for selling business throughout the UK.
Redwoods Dowling Kerr
Redwoods Dowling Kerr, part of Altius Group, is the specialist broker dealing in Childcare, Healthcare, and Kennels & Cattery sectors. Altius Group is a market leader in business sale transactions for small to medium size enterprises. The group includes some of the most well-respected and leading business brokers in the marketplace. Altius Group offers a sector-specialist approach, tailored to the requirements of our clients. With over 40 years' experience in business selling, we have a proven track record of delivering successful sales, constantly striving to surpass the expectations of our clients.
 Redwoods Dowling Kerr Healthcare Business Broker – Buy a Business – Sell a Business – 2017
Value your Business today with Business Buyers the UK's Fastest Growing Business Broker